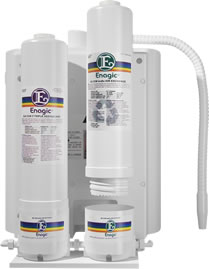 Activated Alumina Fluoride Reduction Filter
This is a replacement filter which is to be used with the Enagic Dual Pre-Filter System. note: need adequate water pressure or may not flow properly.
Benefits of this filter:
Removes Fluoride
Simple twist removal for easy service changes
AlumFlor is an Activated Alumina Fluoride Reduction filter that removes unwanted fluorides from tap water. Fluoride is found in both public drinking water and some bottled waters. This filter's lifespan is 500 gallons.
| | | | | | | |
| --- | --- | --- | --- | --- | --- | --- |
| Parameter | USEPA MCL | Influent Challenge | Effluent Average | Effluent Maximum | % Reduction Average | % Reduction Minimum |
| Fluoride | -- | 1.0 | <0.1 | <0.1 | >90 | 90 |